Calling all basketball players! The 3rd Annual Coaches vs. Cancer 3-on-3 Basketball Tournament will be on Sunday, January 25th from 1-7pm! This is a benefit tournament for the American Cancer Society – 100% of funds collected for this event will benefit ACS. All players must register through the Oconee County Parks and Recreation Department. The entry fee is $50 ($40 for early registration) per team of 3-4 players. The age groups for teams are as follows:
4th/5th grade boys
4th/5th grade girls
6th/7th grade boys
6th/7th grade girls
8th/9th grade boys
8th/9th grade girls
High School/College/Adult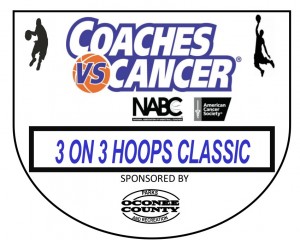 All minors must have a signed parent consent form. The registration deadline is Wednesday, January 21st.
For rules, registration and team entry forms, visit the Oconee County Parks and Recreation Department's website. Contact the program coordinator, Drew Torok, at dtorok@oconee.ga.us if you have any questions about this event.
Tags:
American Cancer Society
,
basketball
,
cancer
,
jennifer westmoreland and associates
,
The JWA
Posted
by